10K South – Crest Hike
In Sandia Mountain East Region
Map File Source: NG Topo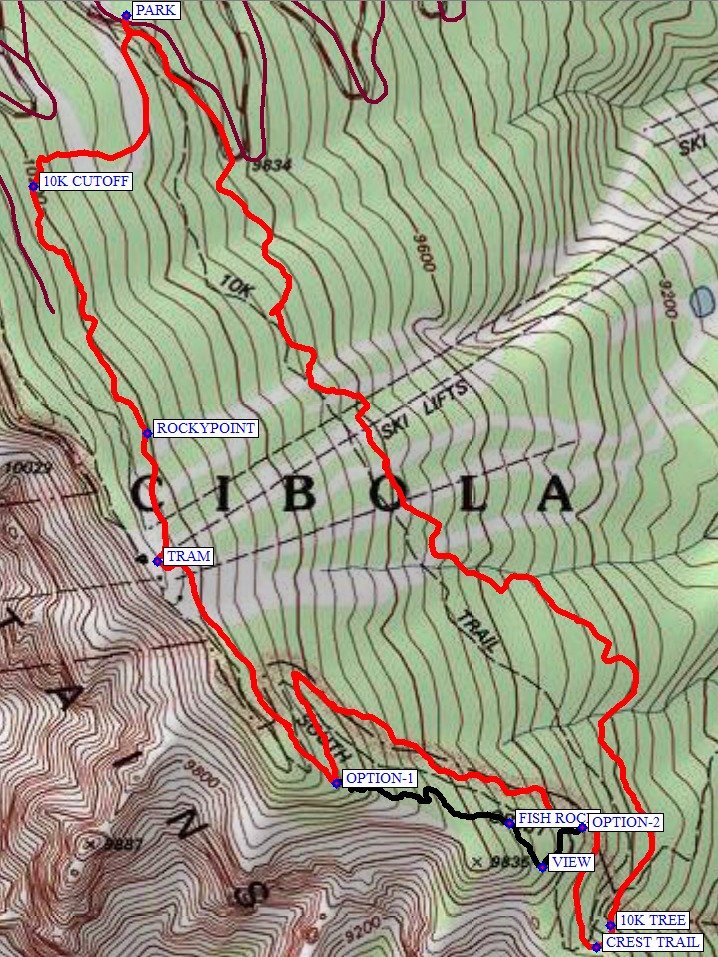 Hike Key:
H10070
Last Updated:
12/15/2020 12:00am
Last Updated By:
Marilyn Warrant
Hike Class:
C (Challenging)
Hike Distance:
5.2 mi
Minimum Elevation:
9400 ft
Elevation Change:
900 ft
Total Uphill:
950 ft
Total Downhill:
950 ft
Avg. Grade:
11 %
Route Type:
CW Loop
On Trail:
Yes
Paved or Gravel Roads:
Yes
GPS Advised:
Yes
Drive Distance Round Trip:
60 mi
Drive Time One-Way:
1:00
Hiking Seasons:
New Mexico Game Unit:
8
Hike Status:
Published
Attractions:
Fall Color, Forest, Meadows, and Views
Highlights
A high cool hike over a variety of terrain; nice views both east and west.
Cautions
There is a long uphill stretch in the middle of the hike-a good workout hike.
Trailhead Directions
From Albuquerque take I-40 east to Tijeras exit. North on NM 14, west on Crest Road SR-536. Park at the 10K Trailhead turnoff on the right just past mile marker 10.
Actual Hike
Walk across road, notice the sign for 10K Trail which points to left. If you look straight away from the road, that is where you will return from. Following 10K Trail you will eventually come into a clearing that is a ski run stretching up and down the mountain. You will cross several of these; three of them have chair lifts. You will descend a long slope and then up until you come to the intersection of 10K Trail with Crest Trail and Tree Spring Trail (10K TREE (2.3 mi)). Continue for about 300 feet to the intersection with the CREST TRAIL (2.3 mi). Go north on the Crest Trail. There is a option (see the track shown in black on the map) to take a trail closer to the cliff edge starting at OPTION-2. Go east uphill to a VIEW, then north to FISH ROCK where you can see some excellent fossils. Rejoin the Crest trail at OPTION-1. Otherwise, continue on a series of switch backs to the ridge and on to the TRAM (3.9 mi). There are good views on the deck in front of the restaurant, and a good place for lunch. Go north on the service road behind the ski lifts and leave the road at sign ROCKYPOINT (4.2 mi). Leave the service road at this point, following the trail down until it goes up, then leave it at the 10K CUTOFF (4.7 mi) which is a cut slanting down. Eventually you will see the highway off to your left. You'll come to a large area of downed trees. Cross that and go north along the clearing until the highway is reached.
Comments
Great views down the ski slopes to the San Pedro mountains to the east. Follow the blue diamonds for cross country skiers to help keep you on the 10K trail.The Sandia Ranger District has set a 25-hiker limit for this area.
Waypoints
PARK: N35 12.571, W106 26.121
10K TREE: N35 11.236, W106 25.256
CREST TRAIL: N35 11.203, W106 25.280
OPTION-2: N35 11.380, W106 25.305
VIEW: N35 11.321, W106 25.385
FISH ROCK: N35 11.386, W106 25.435
OPTION-1: N35 11.444, W106 25.745
TRAM: N35 11.770, W106 26.066
ROCKYPOINT: N35 11.958, W106 26.083
10K CUTOFF: N35 12.320, W106 26.288
Map Filename:
10KSouth-CrestMapOptions.JPG
Hike GPS File Name:
10KSouth-CrestWayTrackOptions_DBMW.gpx
Hike GPS File:
Click
link
to download hike waytrack file
Text Author:
Dick Brown
Map Author:
Marilyn Warrant
Waypoints Author:
Dick Brown
Track Author:
Dick Brown
Maintainer:
Ken Smith
Editor:
Howard Carr