Mount Taylor From Gooseberry Spring Hike
In Mount Taylor Region
Map File Source: DeLorme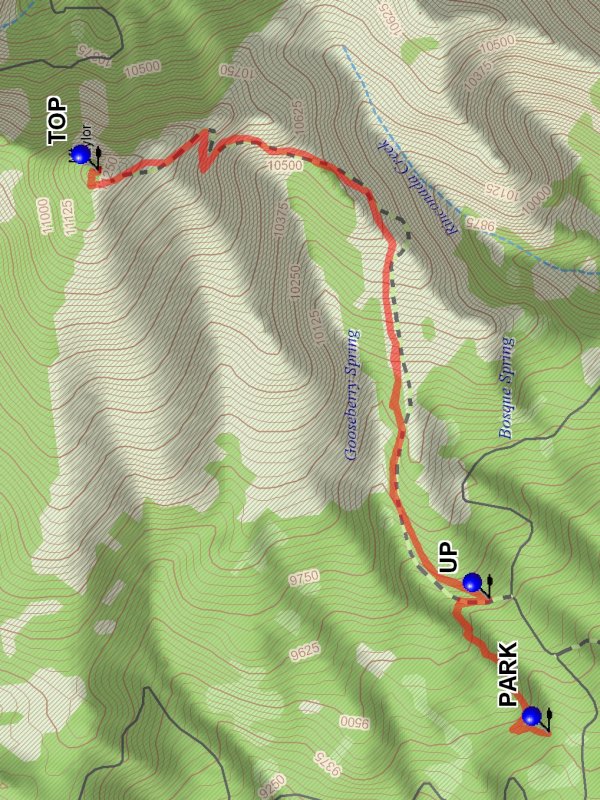 Hike Key:
H10020
Last Updated:
12/15/2020 12:00am
Last Updated By:
Marilyn Warrant
Hike Class:
D (Difficult)
Hike Distance:
6.2 mi
Minimum Elevation:
9270 ft
Elevation Change:
2030 ft
Total Uphill:
2046 ft
Total Downhill:
2046 ft
Avg. Grade:
13 %
Route Type:
InOut
On Trail:
Yes
Paved or Gravel Roads:
No
GPS Advised:
Yes
Drive Distance Round Trip:
200 mi
Drive Time One-Way:
1:45
Hiking Seasons:
Summer and Fall
New Mexico Game Unit:
9
Hike Status:
Published
Highlights
A challenging trail for seasoned hikers. Panoramic views from atop Mt Taylor in all directions.
Cautions
Steep grade on ascent and descent; thin air at summit; not recommended for hikers with respiratory disorders. Trekking poles recommended.
Trailhead Directions
From Albuquerque take I-40 west for about 75 miles to the first Grants exit, I-40B exit 85. Go through town to SR 547 (First St) and turn right. Continue northeast on SR547 which becomes Lobo Canyon Road for about 13 miles. Find [FR 193] and turn right. Drive on FR 193 for five miles and look for a small parking area on the right. PARK (0.0 mi) here.
Actual Hike
The hike starts across the road at a small Trail No 77 sign. The trail goes northeast in conifer forest, crossing the canyon leading to Gooseberry Spring in about 0.5 miles. Cross the canyon and follow the backward traverse on the other side either on the trail or the two track. At the trail sign be sure to continue UP (0.7 mi) rather than continue on the road. The trees will become more sparse as the climb proceeds. At the 1.3 mile point the trail emerges into a broad upward slope. The next 0.5 miles to the ridge ahead are the steepest part of the climb. The rest of the climb involves a series of traverses over mostly open terrain. There will be great views back to the east and to the south. The trail will be stony and can be difficult. If inclement weather develops the best course of action is to retreat, as the mountain is vulnerable to lightening strikes etc. At the TOP (3.1 mi) there will be views in all directions. You will be at an elevation of 11,300 feet, on top of one of the four defining sacred mountains for the Navajo country.
Comments
This is a hike with an average grade of 13% (that's steep), plus all of the hike is above 9200 ft. Expect to go slow with lots of stops. At a slow pace it will take 2:45 to get to the top. The reward is that the views are spectacular. The return takes about 2:00 hours. Allow more time if you make stops for refreshments.
Waypoints
FR 193: N35 15.390, W107 41.168
PARK: N35 13.200, W107 38.214
UP: N35 13.348, W107 37.809
TOP: N35 14.318, W107 36.507
Map Filename:
MountTaylorFromGooseberrySpring_Dnew.jpg
Hike GPS File Name:
MountTaylorFromGooseberrySpringWayTrack_DBDB.gpx
Hike GPS File:
Click
link
to download hike waytrack file
Text Author:
Dick Brown
Map Author:
Dick Brown
Waypoints Author:
Dick Brown
Track Author:
Dick Brown
Maintainer:
Vivian Heyward
Editor:
Marilyn Warrant